Description
Integrated BMS with safety switch.
The Lithium SuperPack batteries are very easy to install. No additional components are needed. The internal switch disconnects the battery in the event of a deep discharge, overcharge or high temperature.
Resistant even in bad conditions
A lead-acid battery will prematurely fail by sulfating if:
If it is operated incorrectly for a long time (ie if the battery is low or completely charged)
If the battery is left completely discharged for a long time or left in a bad condition.
A lithium battery, on the other hand, does not need to be fully charged. Life expectancy even increases a bit when the lithium battery is only partially charged rather than fully charged. This is a huge advantage in return for the lead-acid battery.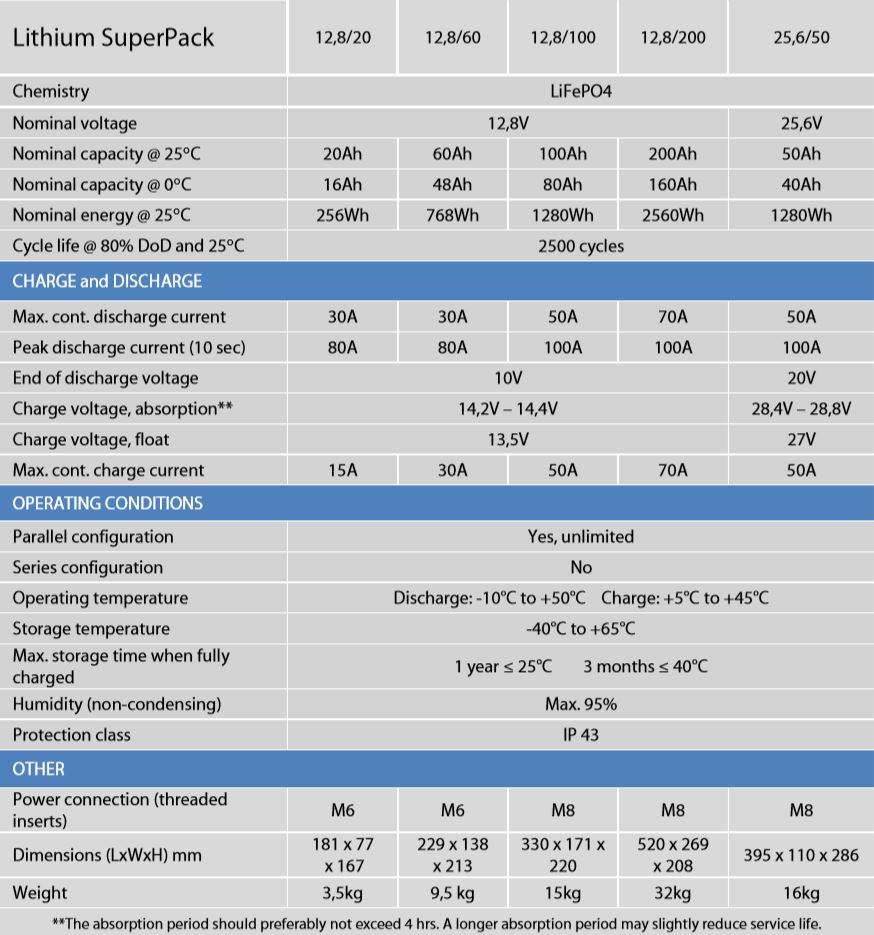 Choose battery capacity and voltage:
Lithium SuperPack 12.8V / 20Ah (M5), Dimensions 181 x 77 x 167 mm / 3.5 kg
Lithium SuperPack 12.8V / 60Ah (M6), Dimensions 229 x 138 x 213 mm / 9.3 kg
Lithium SuperPack 12.8V / 100Ah (M8), Dimensions 330 x 171 x 220 mm / 13.5 kg
Lithium SuperPack 12.8V / 200Ah (M8), Dimensions 520 x 269 x 208 mm / 32 kg
Lithium SuperPack 25.6V / 50Ah (M8), Dimensions 395 x 110 x 286 mm / 16 kg
Efficient
In many applications (especially off-grid solar systems), energy efficiency is very important.
The efficiency of a lead-acid battery, with a discharge of 100% to 0% and recharging from 0% back to 100%, is 80%. The efficiency of a lithium battery is 92%. However, the charge process of a lead-acid battery becomes more and more inefficient in a state of charge of 80%, which means that the efficiency of a lead-acid battery in a solar system is only 50% (battery is discharged at a state of 70% and 100%) ). In return, a lithium battery provides 90% efficiency.
Can be switched in parallel
The Lithium SuperPack batteries can be switched in parallel. A serial connection is not allowed. Please use the battery only standing.